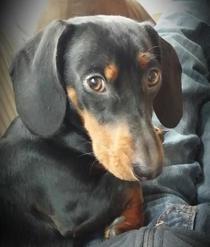 Hi Cherie,
Just wanted to stop by and say that we are so glad that Onyx found a home. We are already thinking about letting Flappy have a little brother but didn't want to falsely commit. We will be keeping an eye out during the spring and summer though! Hope you are doing well! Flappy says hello!
Norman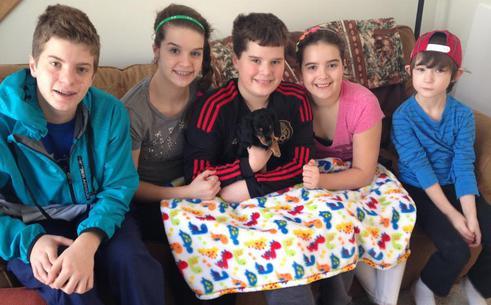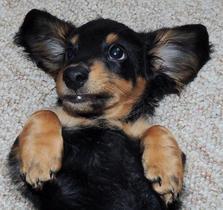 Hi Cherie ~
We want you to see our sweet little Nitro with his new family! He was so happy to be introduced to all of the kids and how surprised they were!!! They sat around him in a circle and he crawled around army style to each of the kids to introduce himself with KISSES!!! He could not be any cuter!
He is adapting to his new surroundings unbelievably well! He is going to the bathroom outside already (he gives a little whine and out we go!) and is eating and drinking too. He had a fun morning playing with the kids and has now been taking a long afternoon nap :)
This is a very, very special little dog. All of your dogs are :) and we feel so fortunate to have been blessed with a puppy from you! We will share with everyone who asks about Nitro how amazing he is and what a wonderful experience we have had with you!
We will absolutely be sending in our deposit for a little girl to join Nitro and our family! 
Thank you so very, very much!
Patrick & Valarie and the Gang
Good Morning!
I made mom & dad dinner for tonight and just had to take it over this morning!  
Yes, it was my sneaky way to see Mr. Wiggles this morning. tee he he.
He is wonderful! I want to take him home!
While I was there after work, we were putting some groceries away, and Mr. Wiggles went to his puddle mat and did his duty!  
That was so cool! then mom fixed his dinner and he ate really good.
We all played on the floor in the living room. His big sister Deb & big brother Fred stopped over to see him too.
I telephoned my parents about 7:30 pm and mom had just taken Mr. Wiggles upstairs, had his bed made in a laundry basket, & they watched some tv.
They said he slept well - til about 6ish and mom brought him into bed where he crawled all over my dad and licked up his neck. 
Mom got up - went down stairs and he did both of his duties on the puddle pad right away. Smile emoticon Then had his breakfast.
Everything is super, and it is so nice to see mom and dad giggling and playing with him.  
He gives my mom's life meaning. 
She talks about closing the office and filling it up with puppies! LOL!  
Have a great day,
Terry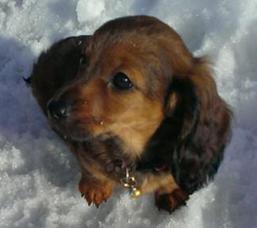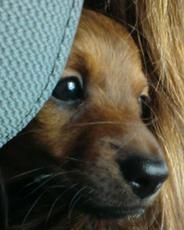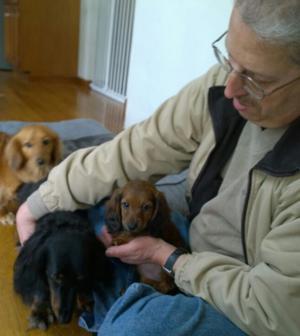 Hi,
foxie is doing awesome, slept through the night too. she is kissing me and bubba constantly was chasing buuba around waging her tail and playing with him, tell troy she has a pink bow in her hair(not my idea) but looks cute on her, my sister-in-law put her on face book with a lot of likes- now she has her 15 minutes of fame. soo pretty I love her soo much. I have pictures on my phone to send once I figure out how tomorrow .thanks a million for a wonderful baby girl!!
Sincerely, dan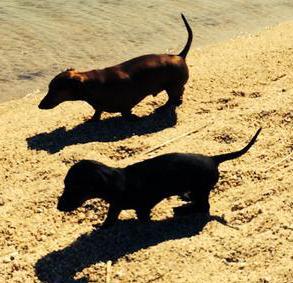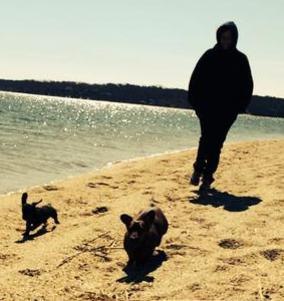 Hi Cherie,                                                                                                  
The last several months have been a growth spurt for Redzi Rose. She is now 8.5 lbs. and her coat is getting longer and curlier. She is a pleasant, calm puppy who has been socialized as I take her to the nursing home where my mom is staying. Redzi is welcomed with loving words and hands. She is the 'star' of the nursing home. Even the nurses want her to stay as she calms the patients and make them smile.
The picture is of my 3 year old grandson, Oliver and Redzi. Last Friday I was watching them play together. Oliver wanted to see "Dora the Explorer" on YouTube. As you can see they enjoyed watching the video together. It such a joy to she how both became the best of friends.
Thank you again for giving me such a loving, sweet puppy. Everyone just loves being around Redzi and she returns the love too. I hope spring is finally here as Redzi enjoys being outside watching the squirrels and rabbits.  
Peace & Blessings to you and your new puppies, Heide & Redzi Rose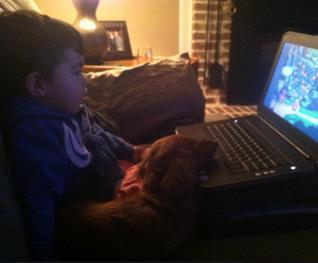 Cherie,
Nice to see you again as well.
We drove straight through on Saturday Night getting home at 10:30 pm! Long Day but worth it. Didn't know if we would get sleep anyway in a hotel so we gambled correctly. Bunker whimpered a little but for the most part was awesome on the way home. Captain still is a little stand offish but is slowly warming up to him. Bunker is all over the place running around and Captain just observes. I can see that Captain is warming up to him but has allowed him to jump on his bed a curl up like it was his own. As we get into a routine this will get easier and easier each day.
Bunker has a great personality and we couldn't be happier. He has been eating up a storm and lets you know when he has to potty. Just like Captain,
Seems like it will be a very easy transition to get him to go outside (which he done since he has been home).
We will keep in touch.
Thank you again.